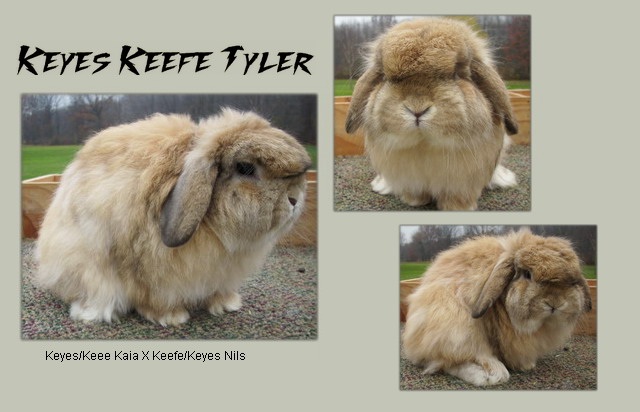 Ty is a gorgeous buck I bought at the Mini Convention this year. I was so lucky to have gotten him. This guy has a wonderful personality and a huge head, great ear and nice body! He throws wonderful babies! I'm so glad to have him!
Winnings:
BOS, BOV 6/06/09
BOS, BOV 6/06/09
3 Legs
Bean is the first fuzzy lop born here at the rabbitry. Naturally we grew attached to him and of course he is a Sweetheart. Bean is my baby and I can't imagine not having this guy!He loves to give kisses. Bean has a beautiful head. Not quiet as big as his dad's was but as he is getting older we've noticed it becoming bigger! He has a super fluffy coat. His biggest fault would be ear control but we've also noticed that with age they have come down. We hope to get him on the show tables somemore as he has got a super nice coat in!
Winnings:
8/16 ARBA CONVENTION 08
BOB LC Rabbit Show and BOB BG Show
BOB,BOV 6/2/07
BOB, BOV 2/24/08
1/5 1/5 1/5 BOS, BOSV, BOV11/07/09
4 Legs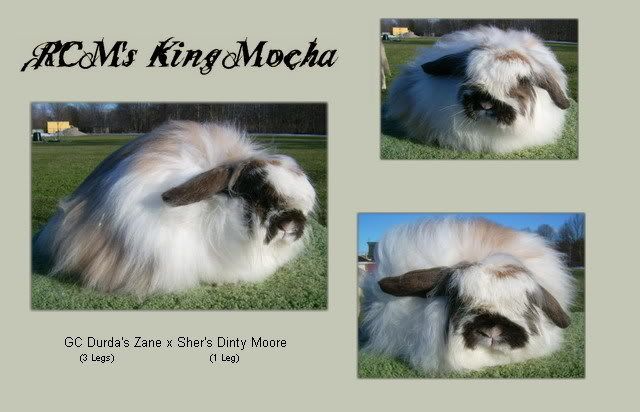 RCM's King. This little guy is super sweet. He has a very nice head and body with extra nice dense wool! I'm so happy to have this guy and reminds me of his father and is a total gentleman! We finally got updated pictures but it's hard to get this guy to sit still.
Winnings:
3/9 ARBA CONVENTION 08 (against the BOB winner!)
1/5 Berea 10/28/07
2 BOV LCRBA 6/9/08
BOS,BOSG 9/7/08
BOS, BOV 9/6/08
BOS, BOSV 1/2 11/1/08
BOSV, BOSV 9/13/09
BOSV, BOSV, BOV, BOB!!! 11/07/09
5 Legs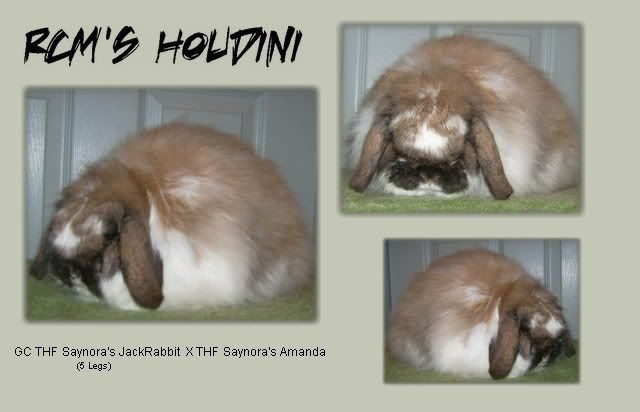 Houdini aka Dini is a fuzzy holland and won't be used in our fuzzy breeding program but will be a pet/show bunny. Megan just begged and begged me to have her. She's a cutie for sure. :) *Updates* Dini is kicking tail on the show tables she is unstoppable!
Winnings:
1st Plac BJD CONVENTION 2008
1 Leg BOV,BOB10/23/08 as a junior!!!
1/2.1/2 Medina 11/1/08
1/2, 1/2 9/7/08
1/2,1/2 9/6/08
BOB, BOV 10/05/08
BOB, BOV 10/04/08
BOB, BOV, 11/07/09
BOS, BOSV 11/07/09
4 Legs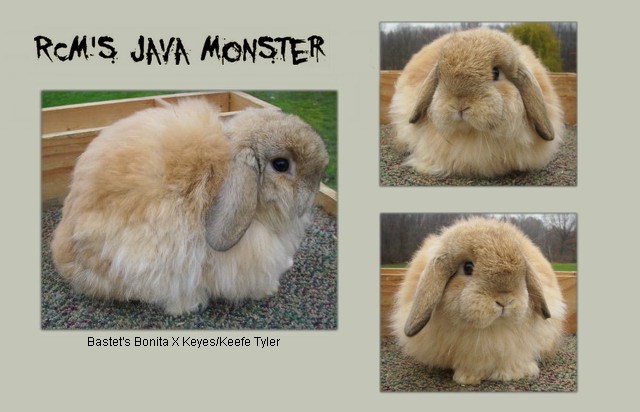 Java Monster is my pick of the litter and he has a gorgeous body and at 3 months he has the most beauitful coat of wool. This guy is gonna turn out nice. He looks just like his dad! I can't wait to show him at nationals!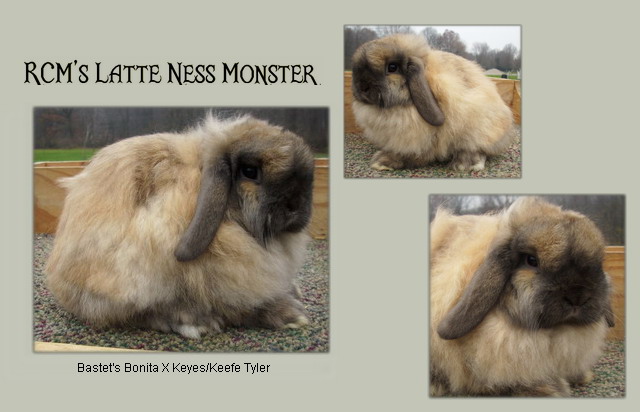 Latte is a quirky, bouncy, bundle of fur and energy!She is my second pick of the litter. However these pictures do her no justice! This girl has a absoulte gorgeous coat of wool and super nice head and body. Her ears are folded and she pulls them back when she is being messed with. However this girl just loves to say hi and loves to be petted and given attention. She will be a nice show doe and I will breed her in the future. Also can't wait to show her at nationals!
"Netta" is such a cute little girl. Only one in the litter. Has a super nice body, we just hope she grows into her ears! :) SOLD!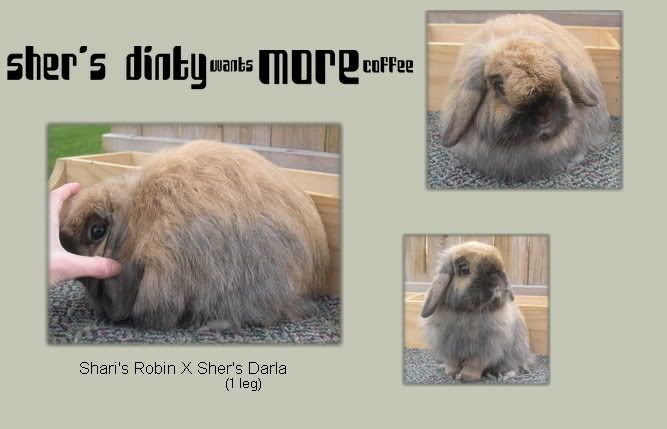 Dinty came all the way from Kismet rabbitry up in MI before Lauren sold out. We are very excited to have her. Dinty has an extreemly large head for a doe she has a nice body but lacks a little in the Hindquarters. She does tend to pull her ears back when she's being messed with so it looks as if she has a slipped crown. She has produced some nice babies for us and is now retired from breeding and showing. I am looking for a loving home for her to give her the spoiled treatment this princess deserves. FOR SALE
Winnings:
4/11 CONVENTION 08
2 Legs
BOB Shia. county fair.
BOS BG show
BOB,RIS LCRBA Lop-rama specialty
BOB, BOV 6/7/08
BOSV 1/12 9/7/08
BOB BOS BOSV 10/5/08
BOSV 1/2 11/1/08
BOB, BOV, BOSV 5/02/09
BOV, BOSG 9/06/09
BOB, BOSV 9/06/09
BOS 6/06/09
BOSV 10/04/09
3 Legs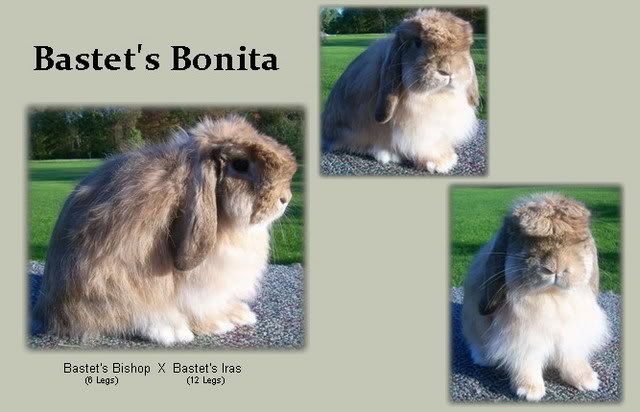 Bonita is such a beautiful doe. We've always had a weak spot for oranges too. These pictures were taken as a junior and she has grown into her ears and has the biggest head out of all of my does. Only showed her once and she did well but she was mainly my brood doe. She has produced some really amazing babies. SOLD to the Durdas!
Winnings: 1 BOB 6/9/08
MORE COMMING SOON!
Solid Senior Bucks and Juniors!