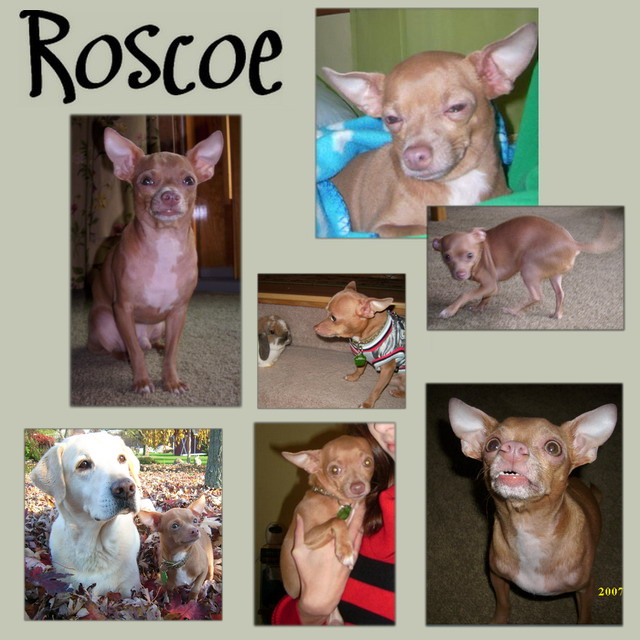 Roscoe is the newest family member. He's a Red Chihuahua and is the sweets and best tempered Chi Chi I've ever met. He loves cuddling with everyone and following anyone around and of course being treated like a baby. We've already bought him clothes and of course there's one with bunnies on it for him to wear. I've never like little dogs and I'd never ever think I'd of got one but he's definetly changed my mind! I'm currently using him as my grooming and handling show dog and he always catches the judge's attention as he's so cute and passive.
Levi is our big old yellow labrador. He was originally just a pet but when I joined 4-H, I joined a dog club so he became my 4-H obedience and rally-o dog and did some grooming and handling for a few years. He'll do anything for treats but of course when it comes down to show time I can't use them in the ring. This year (2008) is my last year in 4-H because both Levi's and I are getting to old for 4-H. ;) We are attempting graduate novice and thank goodness he definetly is a true retriever and likes to carry things in his mouth such as his dumbell that is required for the level. He's a really good all around dog outside of showing. He's the best family dog anyone could ask for. We never have for worry about anything. He never wanders away, he comes when he's called, he's a great alarm/guard dog for us and the bunnies, gets along great with all the other pets, he keeps the pesty ground hogs out of our garden, and he is always willing to please and of course give us lots of laughs from his goofyness. In 2007 he was awarded his Canine Good Citizen award (CGC) at the oberlin doggie do parade after testing. We love our goofy boy!
IN LOVING MEMORY :'( Nov 11, 1996-April 30, 2009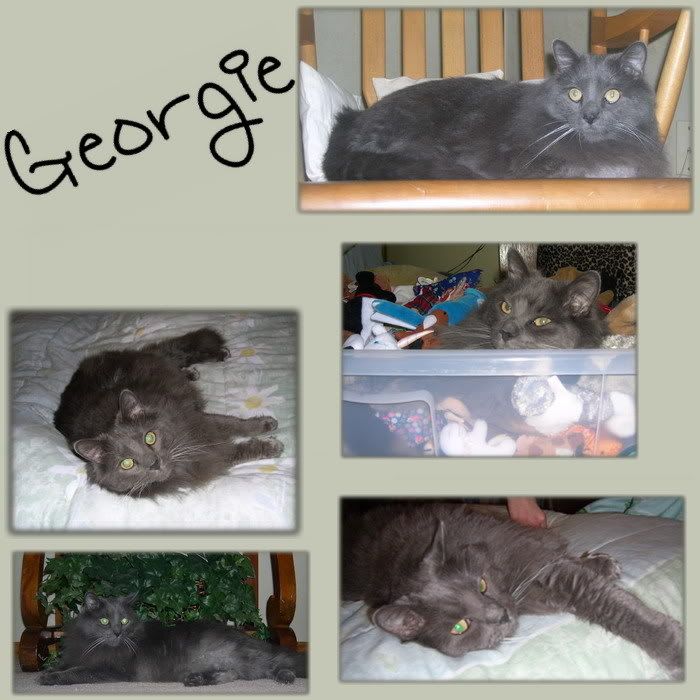 Georgie is my baby. It's not uncommon to find me with out him when I'm inside the house. I guess I'm the lucky one that he picked to be his favorite. I honestly can't imagine my life with out him he's constantly my shadow and my teddy bear. He's a smart boy too. I've taught him to do tricks such as sit, beg, high five and wave. I just love this cat bunches.
Monte was adopted from the Pet'sMart Cat's from shelters. He was said to of been born along with 3 other kittens in someone's garage. We think he's got some Mainecoon in him as he is huge and weights a whopping 20lbs! He's a little short on the brain end and just pretty much follows George around. I never knew what a copy cat was until we got Monte. He really does copy everything Georgie does. He's extreemly talkative and he let's everyone in the house know when he's hungry. Of course he gives us lots of laughs when he goes running through the house chasing George and slidding down the woodfloors.
Twyla is Carly's Bird. She's a budgie. She loves to chrip and sing to any music or whistling and even Carly's clarenet playing! Carly has trained her to sit on people's shoulders but is still working on the sit on her finger thing as Twyla perfers to bite fingers rather than sit on them.
.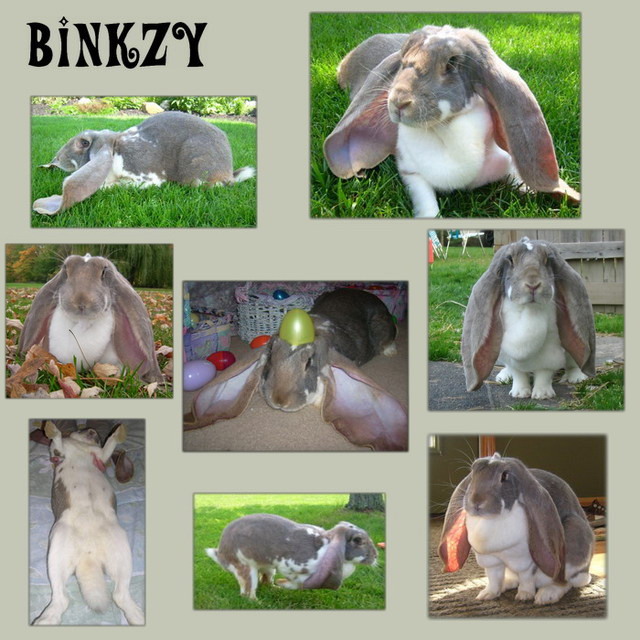 I bought Binkzy in May of 2006, I had always admired the English Lop breed because of their laid back disposition and quirky looks. My family made fun of me saying I got a Ja-Ja Binks rabbit from star wars, hence how she got her name, Binkzy. Binkzy is a sassy and messy girl but I love her bunches. I came close to trading her for a fuzzy for my sister one year but backed out at the last minute as I just couldn't do it...I'm glad I didn't, she always puts a smile on my face with her quarky personality and always amazes people with her size.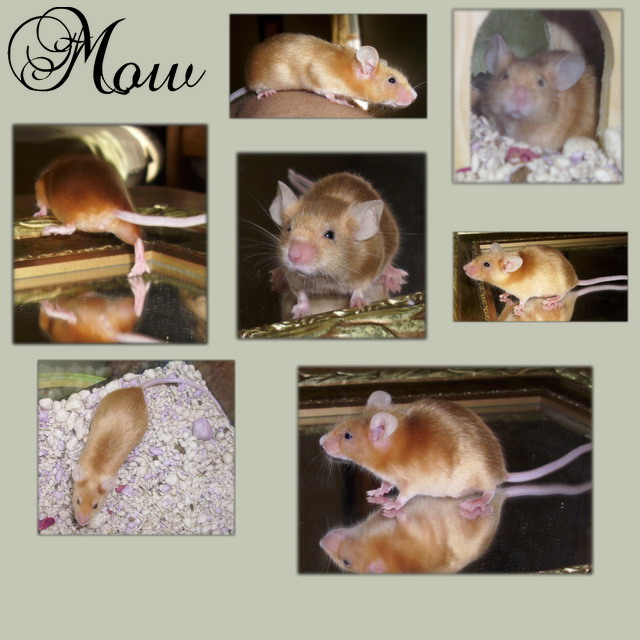 I bough Mow from the petstore that I work at. She came in a shipment of feeder mice. She really caught my eye as well as my co-workers. She's been the only red satin mouse that we've ever seen come in there. She's just too good to go for snake food so I had to take her home and she's the sweetest little pet mouse ever.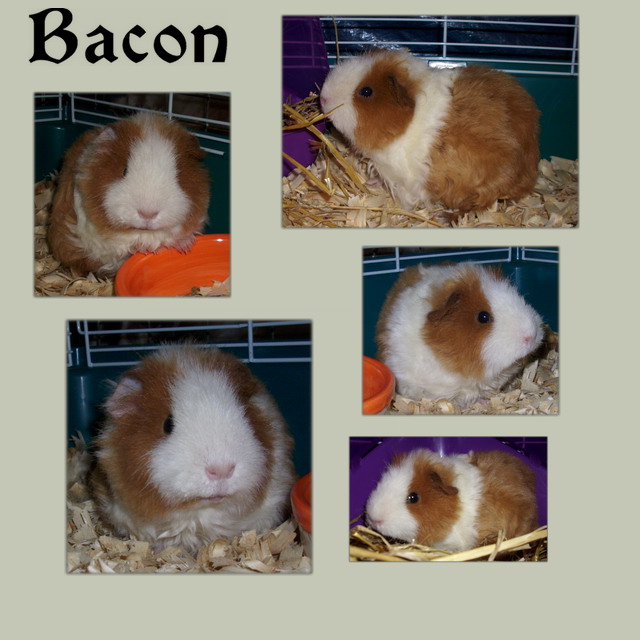 Bacon is my red and white texel guinea pig. I picked him up at the ohio mini convention cause I was up to no good in the cavie are. I've been wanting a piggie for a while and just couldn't resist. He's a spolied little boy.